Niavaran Palace Complex is situated in the northern part of Tehran with 9000 square meters area in Niavaran Neighborhood. This oasis complex is consists of several parts including palaces, museums, and garden. Niavaran Complex traces its origin to a garden in this region which was used as the summer residence of Fath Ali Shah of the Qajar dynasty. It consists of several buildings and a museum. A pavilion was built in the garden by the order of Naser al-Din Shah which was initially referred to as Niavaran and later it was renamed to Saheb Qaraniyeh. The pavilion of Ahmad Shah was also built in the late Qajar period.
During the reign of Mohammad Reza Pahlavi all the peripheral buildings of The Saheb Qraniyeh Palace, with the exception of The Ahmad Shah Pavilion, were demolished and the buildings and the structures of the present day Niavaran Palace Complex were built to the north of The Saheb Qaraniyeh Palace. In this period, The Ahmad Shah Pavilion served as an exhibition area of the presents of the world leaders to Iran.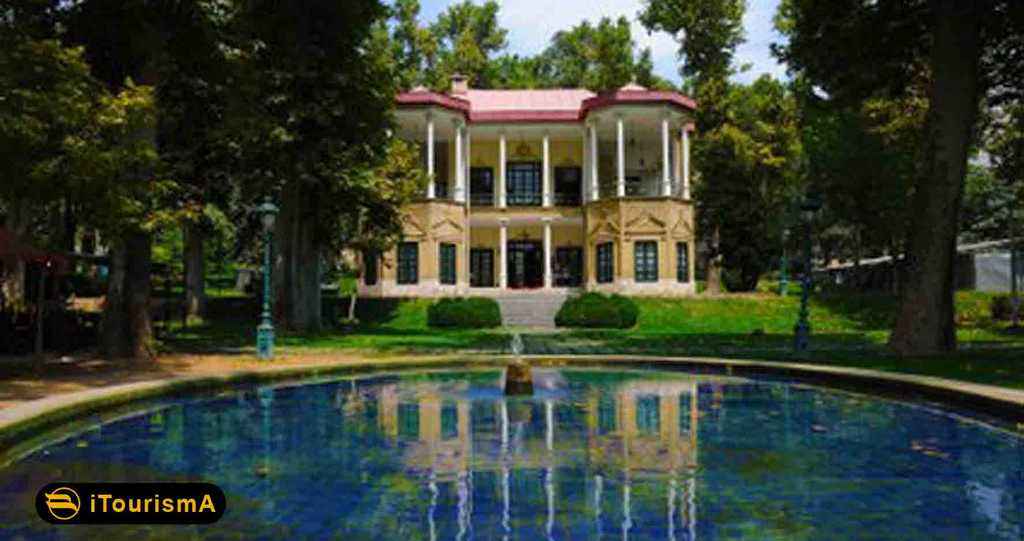 The quadrilateral design of the palace and its interior archeological designing is inspired by Iranian archeology while making use of modern technology. Its decorations have also been inspired by the pre and post Islamic art. The gypsum work has been carried out by Master Abdollahi, the mirror work by Master Ali Asghar, the tile work of the outer part by Master Ibrahim Kazempour and Ilia. The building floor is covered by black stone and has an aluminum sliding roof. The internal decoration and furniture of the palace have been designed and implemented by a French group. In the ground floor of this building there is a great hall in which all the rooms are situated, including a private cinema, dining room, guest room, waiting room and lateral halls as well as the Blue Hall.
The amazing library of the palace consists of around 23,000,000 books, mostly in Persian and French languages and especially many books related to philosophy. The building is designed by bronze and glass and the structure is lit well by 300 cylinders that supply the needed lighting of the reading room, audio visual room and the main library. In the basement of this private library, there is a special place for storing paintings and other artifacts.
https://en.itourisma.com/wp-content/uploads/2019/12/iTourismA-Niavaran-Complex-post-2.jpg
541
1024
Iran Tourism
https://en.itourisma.com/wp-content/uploads/2020/04/Logo-website-216x99.png
Iran Tourism
2019-12-23 15:22:53
2021-05-01 11:58:04
Niavaran Palace Complex