Naqshe Jahan is a public urban square in the center of Esfahan. It is one of the largest city squares in the world and an outstanding example of Iranian and Islamic architecture. Built by the Safavid shah Abbas I in the early 17th century, the square is bordered by two-story arcades and anchored on each side by four magnificent buildings: to the east, the Sheykh Lotfollah Mosque; to the west, the pavilion of Ali Qapu; to the north, the portico of Qeysariyeh; and to the south, the celebrated Royal Mosque. All of the architectural elements that delineate the square, including its arcades of shops, are aesthetically remarkable and adorned.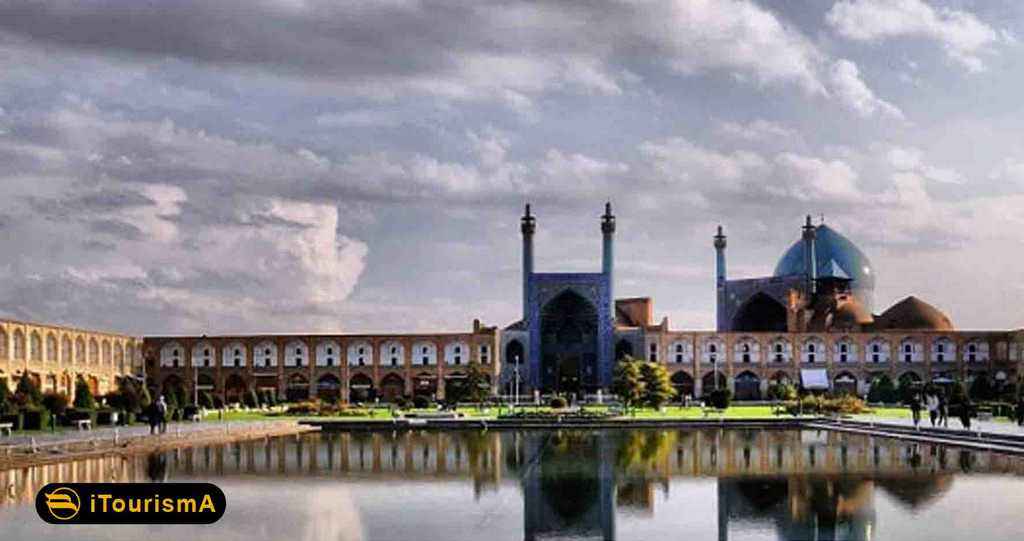 The Naqshe Jahan was at the heart of the Safavid capital's culture, economy, religion, social power, government, and politics. Its vast sandy esplanade was used for celebrations, promenades, and public executions, for playing polo and for assembling troops. The arcades on all sides of the square housed hundreds of shops; above the portico to the large Qeysariyeh bazaar a balcony accommodated musicians giving public concerts; Ali Qapu was connected from behind to the throne room, where the shah occasionally received ambassadors. In short, the royal square of Esfahan was the preeminent monument of Persian socio-cultural life during the Safavid dynasty.
Throughout the history, the square has been used for performing all kinds of festivals, parades, and ceremonies such as; national, governmental and popular ceremonies. Also this is a square just about perfect for a game of polo. The stone goal posts still exist in north and south ends of Naqshe Jahan Square. Polo and horse riding are two of the ancient Persian sports mixed together, played not only for leisure, but also as a display of bravery of men in wars. The royal household would watch the games from the balcony of Ali Qapu Palace. Apart from this, some executions took place in Naqshe Jahan Square. For the present, Naqshe Jahan Square or Imam Square is still used for performing ceremonies and parades on special occasions. There are Traditional shops all around the square for you to explore. Also, Carriage rides are a wonderful way to experience the beauty of the Naqshe Jahan Square.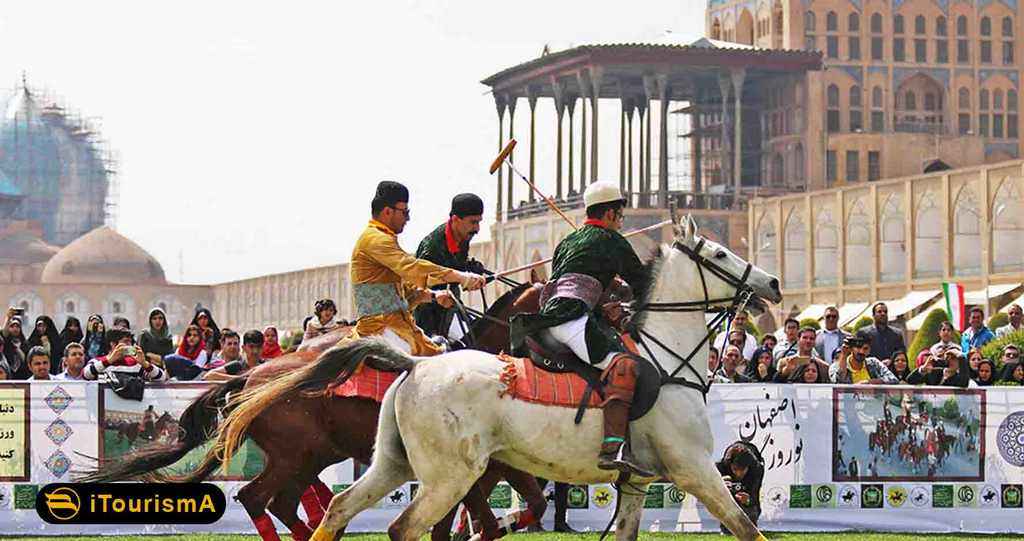 Shah Abbas II was enthusiastic about the embellishment and perfection of Ali Qapu. His chief contribution was given to the magnificent hall, constructed on the third floor. The 18 columns of the hall are covered with mirrors and its ceiling is decorated with great paintings. The Ali Qapu has multiple connotations, but generally connotes entrance or supreme gate to the complex of palaces and public buildings of the Safavid Government.
https://en.itourisma.com/wp-content/uploads/2019/12/iTourismA-Naqshe-Jahan-Square-post-1.jpg
541
1024
Iran Tourism
https://en.itourisma.com/wp-content/uploads/2020/04/Logo-website-216x99.png
Iran Tourism
2019-12-13 12:09:55
2021-05-01 11:59:52
Naqshe Jahan Square