In the first part, we reviewed 5 items of Isfahan handicrafts. In the following, there are other items from Isfahan Handicrafts.
6. Moaragh
The word "Moaragh" actually means something tidy, the art of making art is the laying of colorful and valuable wood, such as ivory, oysters, and metal, to achieve the desired design.
Wood art mosaic can be one of the most beautiful and finest wood arts and crafts in Iran. The Isfahan art scene in Iran has a special place, the best and most diverse works of the world about this art to the Iranians. In fact, this art is really about making different kinds of different types of different colors and patterns.
7. Ghalamkari
Ghalamkari is derived from the Persian words ghalam (pen) and kari (craftsmanship), meaning drawing with a pen. This is a type of hand-painted or wooden block-printed cotton textile, using natural dyes. It is an old craft that has been used as a conduit for their artistic creativity by the Iranian graphic designers, since the antiquity.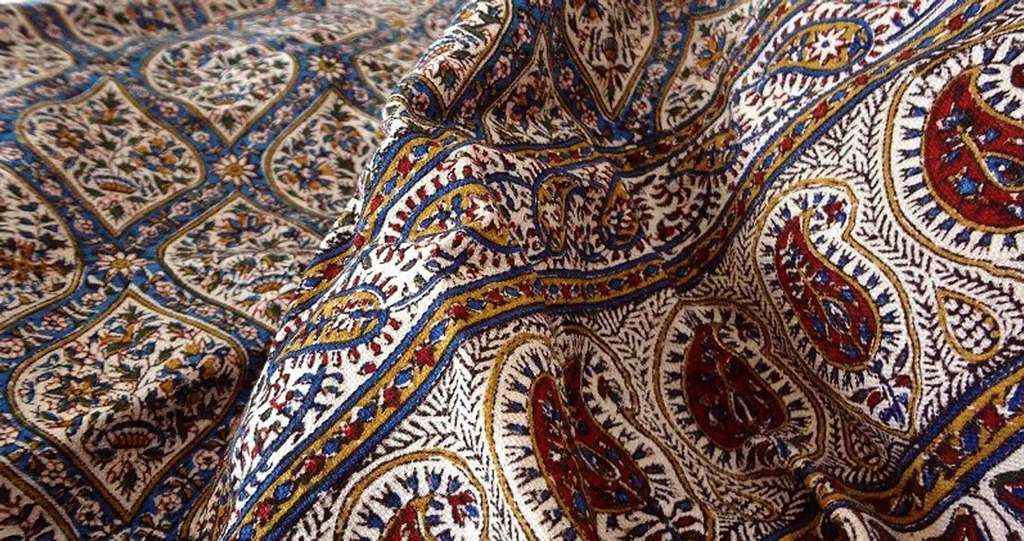 8. Firoozeh Koobi
Firoozeh Koobi (Turquoise) is one of the most popular arts in Isfahan. In this art, small pieces of turquoise appear on the surface of dishes, jewelry and decorative objects. This works on copper, brass, silver and bronze surfaces.
9. Carpet Weaving
Carpets are one of the first artistic handicrafts which have been woven since ancient times in Persia. Iranian Carpets have always been famous all over the world. Almost all international tourists buy even a small Iranian carpet during their trips in Iran. During the Safavid era, Isfahan was considered one of the main centers of carpet weaving in Iran and there were a lot of workshops. Today, the city of Meyme is one of the important centers for producing handmade carpets in Isfahan province.
10. Pottery and Ceramics
Pottery is the process of forming vessels and other objects with clay and other ceramic materials, which are fired to give them a hard, durable form. This art is considered in the city of Isfahan, as well as in the cities of Natanz and Shahreza
11. Miniature
Miniature is a kind of painting that has long existed in Iran. This type of painting can be sold as decorative panels or used in the architecture to decorate the walls.
https://en.itourisma.com/wp-content/uploads/2019/06/قالی-بافی-1-scaled.jpg
541
1024
Iran Tourism
https://en.itourisma.com/wp-content/uploads/2020/04/Logo-website-216x99.png
Iran Tourism
2019-06-04 17:00:38
2021-05-01 12:07:49
Handicrafts of Isfahan – Part 2